St. Michael School Mission
LEARN, SERVE, LEAD, SUCCEED
The Saint Michael Catholic School family is a Christ-centered community dedicated to the development of the spiritual formation, academic excellence, and stewardship within the framework of the Gospel and the Tradition of the Catholic Church.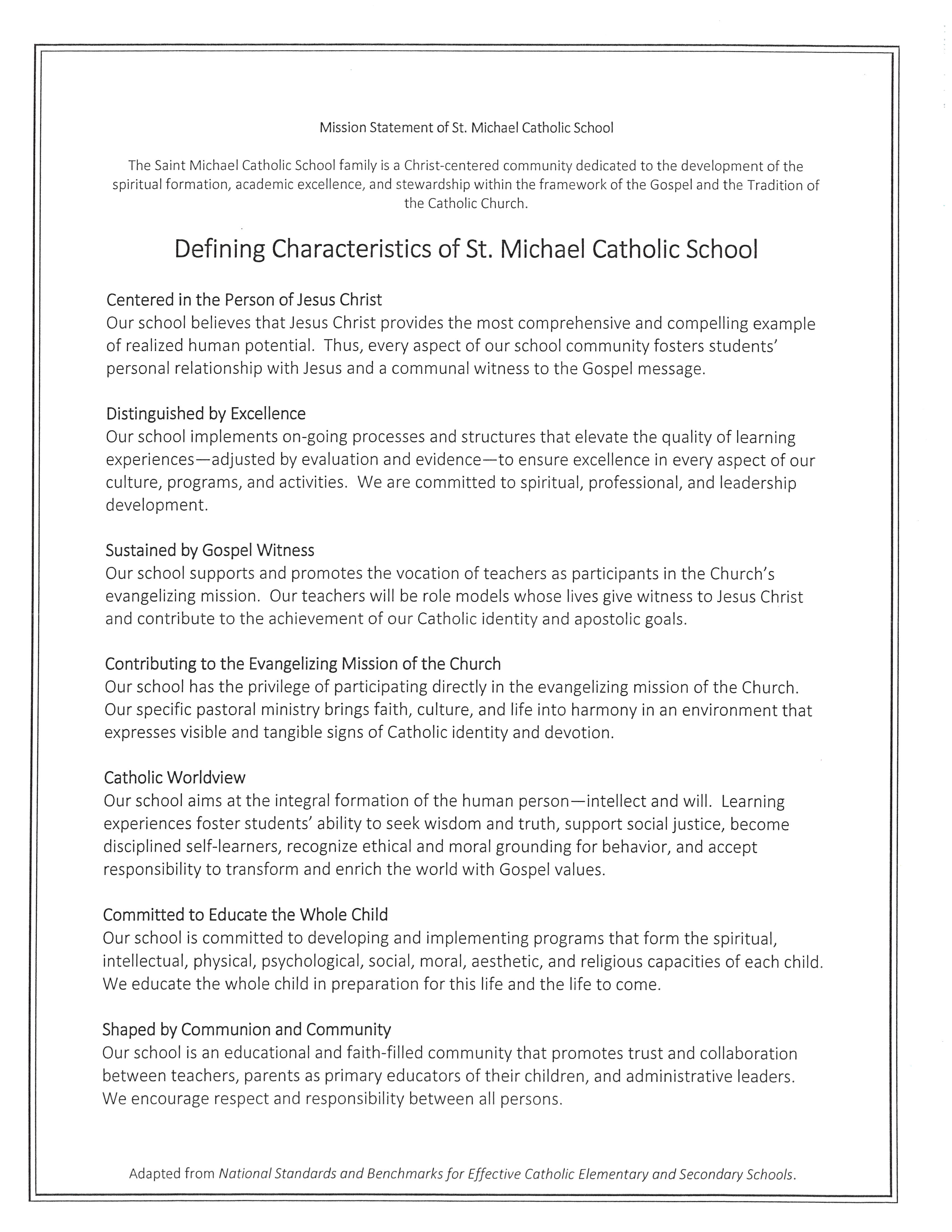 Goals
Spiritual Goals
Worship:  Instill in the student a strong devotion to Jesus and His Blessed Mother.  Learn and celebrate the Church's Liturgy and devotion
Personal Growth: Provide opportunities for religious experience through liturgical and para-liturgical services,private and communal prayer. Develop in the student the realization that free will brings with it the responsibility to make choices based on a correctly informed conscience. Assist in the choice of and preparation for responsible vocations.  As well as to provide adult role models who strive to reveal Jesus, not only by word but by example
Service:  Sacrifice time and talent at home, school, in the parish, immediate neighborhood and the larger world community.  Sacrifice time and money to the missions. While assisting fellow students, teachers and/or staff
Evangelization:  Be Jesus to our neighbor and see Jesus in our neighbors. Share our Catholic faith with others.
Intellectual Goals
Stress mastery of basic skills in a structured classroom environment. Provide a curriculum which takes into account individual potential.  Teach student and organizational skills that help the student to be academically successful.  Foster skills in critical thinking, decision making and provide meaningful instruction.
Emotional and Aesthetic Goals
Assist each student in developing a good self-image, realizing individual uniqueness.  Foster productive use of leisure time and an appreciation of the arts.  Assist each student in dealing constructively with the problems that evolve from the conflicting values of our society.  Promote character development, personal integrity, self-reliance and responsibility
Social Goals
Develop respect and understanding for people of all races, cultures and creeds.  Develop social skills that help the student get along with others in ways that correspond with a living out of the Catholic faith and the values of society.  Develop a consciousness of the needs of others and the obligation to be of service.  Develop an awareness of the need for responsible citizenship in our democratic society as well as our global security
Physical Goals
Provide education in basic motor skills and the opportunity to develop these skills.  Provide a curriculum that will supply the student with an understanding of the human body and the need for developing good health habits.